Skilled Speaker and Storyteller Dolores Sloan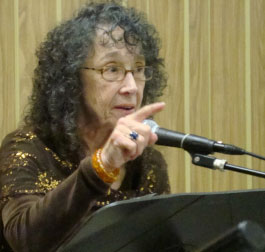 Dolores Sloan is a vibrant and insightful speaker, who believes that history is best understood through the experiences of those who lived it, where the listener can identify with the universal life themes made visible in the work and acts of both great and little people.
As comments attest by those who have experienced her presentations, she is a skilled storyteller, who illuminates the dates and places of history, enabling the listener to view the actors and actions in a fresh light.
Whenever possible, Sloan uses a multimedia approach to enrich her presentations, whether projected images that accompany her talk or an exhibit available to the audience before and after the program. When possible, she invites artists and individuals from the Jewish, academic and greater communities to join her in panels as part of the event. She also offers programs in collaboration with performers in music and other artistic genres.
Each presentation is designed for the particular audience and venue, whether attending a luncheon, an evening event or a full day of programs for diverse audiences.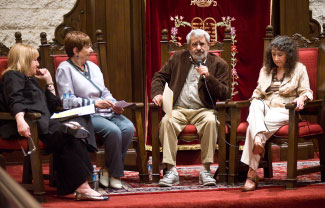 Rae Cohen, Raquel Bensimon and Arthur Benveniste discuss the significance of their Sephardic legacy, as Dolores Sloan facilitates for the program "Homage to a Resourceful and Resilient People," at Sephardic Temple Tifereth Israel in Los Angeles.
I am writing to thank you for the wonderful class you conducted for HaMakom Continuing Education this past Thursday. It was immensely informative and beautifully thought through. All the feedback I have had so far was positive; people enjoyed the class and learned much.
Marge Lazar
Chair, HaMakom Continuing Education
Santa Fe, NM