About Dolores Sloan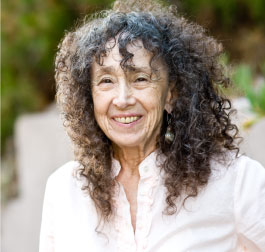 The sto­ries had a sim­i­lar thread: someone's Catholic neighbors—maybe even mem­bers of one's own family—were observ­ing Sephardic Jews tra­di­tions to this very day. These tales, told to her in con­fi­dence as she trav­eled for the state's arts agency through towns and vil­lages through­out New Mex­ico, rekin­dled Dolores Sloan's desire to make that long awaited first trip to Spain and Por­tu­gal in 1996. Along with nur­tur­ing her inter­est in fla­menco and art, she could learn more about the Sephardic Jews and how their cus­toms ended up in largely Catholic com­mu­ni­ties on the north­ern out­skirts of what were once Spain's New World territories.
In 1996, Sloan trav­eled through Spain and Por­tu­gal for five weeks, by train, bus and by foot, always look­ing for the foot­prints left by the remark­able Jews who had cre­ated a golden age of learn­ing and dis­cov­ery in the Mid­dle Ages and Early Mod­ern Period. When she returned from her trip, hun­gry to learn more, she searched library and book­store shelves for works for the gen­eral reader. There were his­tor­i­cal overviews, but no details on the stel­lar nota­bles Sloan had learned of or on the every­day lives of the Sephardim—how the fam­i­lies edu­cated their chil­dren and the place of the syn­a­gogue in their lives; how they main­tained them­selves eco­nom­i­cally; what travel was like and the role of poetry and the arts; how they cared for the sick and buried the dying, pro­vided for the impov­er­ished widow and assured the poor girl's dowry.
The Sephardic Jews of Spain and Por­tu­gal: Sur­vival of an Imper­iled Cul­ture in the Fif­teenth and Six­teenth Cen­turies is the result of research in Spain, Por­tu­gal, Mex­ico and the United States to fill this infor­ma­tion gap.
Sloan brings one half-century of exper­tise as writer, jour­nal­ist, edi­tor, speaker and pro­fes­sor to her diverse pub­li­ca­tions and pre­sen­ta­tions. She is Edi­tor of the Jour­nal of Span­ish, Por­tuguese, and Ital­ian Crypto Jews and for­mer Edi­tor of HaLapid, jour­nal of The Soci­ety for Crypto-Judaic Stud­ies. A knowl­edge­able and skill­ful speaker, she has addressed audi­ences at muse­ums and cul­tural cen­ters, reli­gious and com­mu­nity orga­ni­za­tions, on the sub­ject of her book and related top­ics. She teaches pub­lic speak­ing and Eng­lish at Mount St. Mary's Col­lege, Los Ange­les, where she also offers "Women in Jew­ish His­tory and Culture."