About Dolores Sloan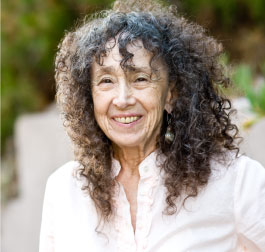 The stories had a similar thread: someone's Catholic neighbors—maybe even members of one's own family—were observing Sephardic Jews traditions to this very day. These tales, told to her in confidence as she traveled for the state's arts agency through towns and villages throughout New Mexico, rekindled Dolores Sloan's desire to make that long awaited first trip to Spain and Portugal in 1996. Along with nurturing her interest in flamenco and art, she could learn more about the Sephardic Jews and how their customs ended up in largely Catholic communities on the northern outskirts of what were once Spain's New World territories.
In 1996, Sloan traveled through Spain and Portugal for five weeks, by train, bus and by foot, always looking for the footprints left by the remarkable Jews who had created a golden age of learning and discovery in the Middle Ages and Early Modern Period. When she returned from her trip, hungry to learn more, she searched library and bookstore shelves for works for the general reader. There were historical overviews, but no details on the stellar notables Sloan had learned of or on the everyday lives of the Sephardim—how the families educated their children and the place of the synagogue in their lives; how they maintained themselves economically; what travel was like and the role of poetry and the arts; how they cared for the sick and buried the dying, provided for the impoverished widow and assured the poor girl's dowry.
The Sephardic Jews of Spain and Portugal: Survival of an Imperiled Culture in the Fifteenth and Sixteenth Centuries is the result of research in Spain, Portugal, Mexico and the United States to fill this information gap.
Sloan brings one half-century of expertise as writer, journalist, editor, speaker and professor to her diverse publications and presentations. She is Editor of the Journal of Spanish, Portuguese, and Italian Crypto Jews and former Editor of HaLapid, journal of The Society for Crypto-Judaic Studies. A knowledgeable and skillful speaker, she has addressed audiences at museums and cultural centers, religious and community organizations, on the subject of her book and related topics. She teaches public speaking and English at Mount St. Mary's College, Los Angeles, where she also offers "Women in Jewish History and Culture."